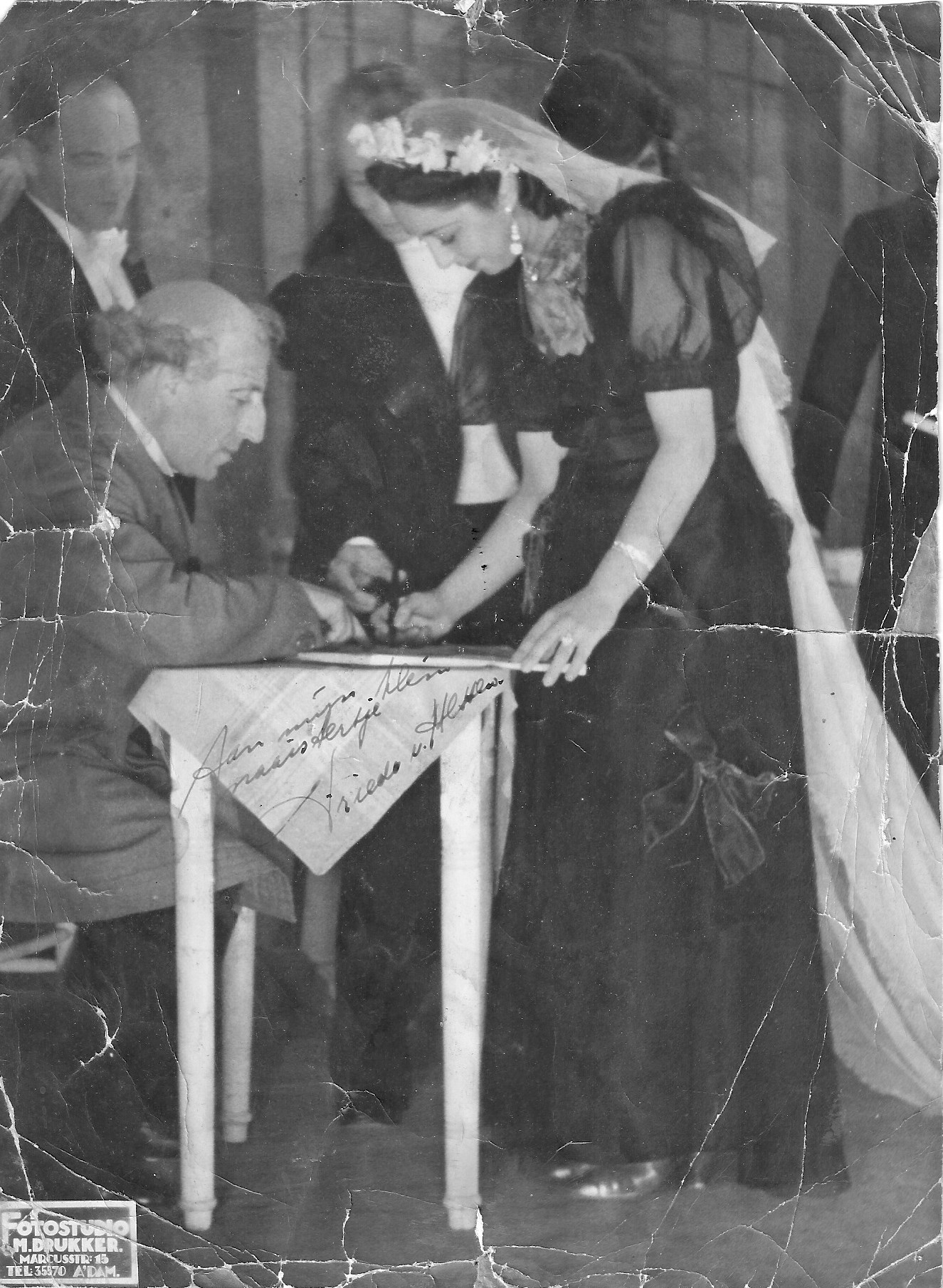 A reader of this website in Washington DC found this picture in a album of his mother. It was one of the pictures that made his mother proud, and it had meant a lot to her. The question was: who does recognize this woman, and perhaps even the guy at the table. The mother in question was a seamstress and did some work for this artist. She wrote on the picture: 'for my little seamstress', with her name. The name on the picture is hard to read. It looks like Frieda van Hessem, Frieda van Messem of Frieda van Hessen. The last possibility would make her a renowned opera-singer, but Frieda van Hessen told that it isn't her. It could also mean that she cannot remember the event and that more information can bring back this memory. The picture was made by fotostudio Drukker on the Marcusstraat in Amsterdam.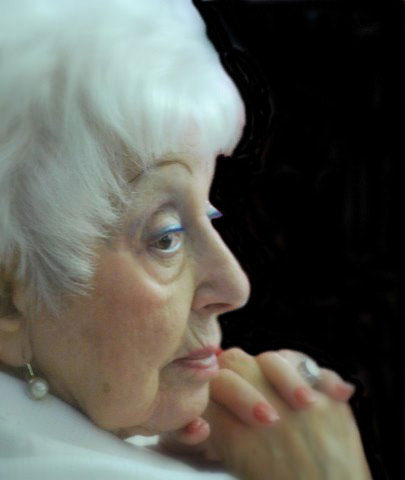 25th of August 2016
It is Frieda van Hessen. She is 101 years old at the moment and lives in North Carolina, United States. Frieda was recognized by here niece Joyce van Hessen, who lives in The Netherlands. After contact between Joyce and Frieda the conclusion is that this must be Frieda. Next to the article is a recent picture of Frieda.
Frieda is the well-known soprano mentioned before. She cannot recall the event at the table. That also was the case when she was asked about this picture years ago. But the following memory came back to her and she writes about it in an email to her niece on August 22, 2016:
"SEVERAL YEARS AGO I WAS APPROACHED BY (I JUST NOW FORGOT HIS NAME)…. ABOUT A BOOK BEING WRITTEN ABOUT ME ETC.ETC. IN HOLLAND. THEN I WAS SENT THIS FOTO AND JUST LOOKING AT IT I THOUGHT IT WAS A WEDDING PICTURE AND KNOWING I NEVER MARRIED IN HOLLAND WEARING A BRIDAL DUFF, BUT JUST ARMY CLOTHES…..FOR ONDERTROUWEN AFTER THE WAR, AND THE ONLY ONE GOWN I SALVAGED, MY MOM HAD MADE FOR WHEN I PERFORMED THE "BAJADERE BY EMERICH KALMAN, AT THE RIKA HOPPER THEATRE, WEARING IT AT MY WEDDING WITH KEITH.
LIKE I SAID I WORE THAT GOWN (WHICH LOOKED NOT LIKE THIS ONE ON THE FOTO) WHEN I PERFORMED IN THE RIKA HOPPER THEATER, THEN ALREADY REJECTED TO PERFORM IN THE CLASSICAL CONCERT WORLD…. I WAS CONVINCED THIS WAS NOT ME…. NOW HOWEVER, I LOOKED AT THE TABLE AND SAW DEFINITELY MY NAME AND YOU ARE RIGHT IT MUST HAVE BEEN AFTER ONE OF MY PERFORMANCES. I REALLY THINK IT SHOULD BE IN THE JEWISH HISTORICAL MUSEUM (in Amsterdam) WITH ALL THE OTHER THINGS ABOUT ME".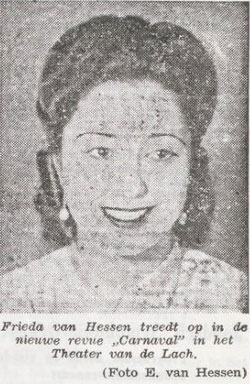 Frieda Ella van Hessen was born on April 24, 1915 in Amsterdam. Her father, Izaak van Hessen (Warffum, 29th of September 1881 – Auschwitz, 8th of April 1944) was an officer in the Dutch army and a merchant in colonial goods. Her mother, Sarline Diamant (Amsterdam, 13th of August 1884 – Auschwitz, 8th of April 1944), was also a singer. She stimulated Frieda to use her talents for the opera. Frieda had two brothers; Bernard (Amsterdam, the 20th of March 1910 – Bussum, 24th of October 1980) and Eduard (Amsterdam, 5th of July 1916 – Auschwitz, August 1944), who was a musician. The Van Hessens were Jewish, but not observing. They lived from 1914 on at the Nieuwe Herengracht 121 in Amsterdam.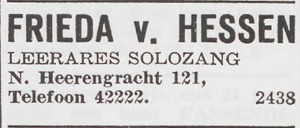 Frieda performed still in the first years of the war but went into hiding when that became too difficult. This is how she survived, going from one hiding to another. The first hidingplace that was available was of the Jewish Isaac Busnach. He saved her life. Isaac survived the war too, a fact that Frieda heard for the first time the day before she turned 100 years old. The daughter of Isaac, Gerrie Polak – Busnach, told her this fact.
During the liberation Frieda met a Canadian soldier, Keith Saunders. They married in 1947. The couple went to Canada, and after a few years they settled in the United States. The marriage did not last. After the war Frieda wrote a book "Life in the Shadow of the Swastika" and she became a christian. She did so after an uncle gave that advice. He said that if the persecution of Jews and antisemitism would start again, she would be in danger again.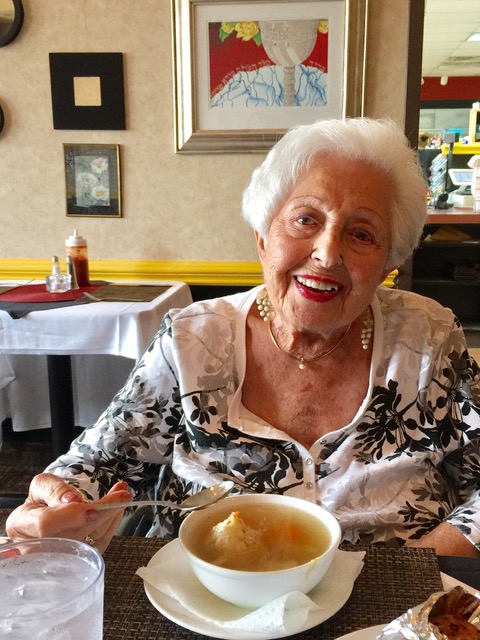 This picture was taken on the birthday of Frieda, when she became 102 years old. In april 2021 she celebrated het 106th birthday. Frieda died on October 31, 2021.
source:
www.thecharlotteweekly.com, lemma Frieda Roos-van Hessen (geraadpleegd 25 augustus 2016)
www.jewishtestimonies.com, lemma Frieda Roos (geraadpleegd 25 augustus 2016)
"Frieda van Hessen treedt op in de nieuwe revue "Carnaval" in het Theater van de Lach. (Foto E. van Hessen)". "Het joodsche weekblad : uitgave van den Joodschen Raad voor Amsterdam". Amsterdam, 23-01-1942. Geraadpleegd op Delpher op 25-08-2016, http://resolver.kb.nl/resolve?urn=ddd:010318302:mpeg21:a0032
www.maxvandam.info, lemma Frieda Ella van Hessen (geraadpleegd 25 augustus 2016)
Stadsarchief Amsterdam, gezinskaart Izaak van Hessen
Met dank aan Joyce van Hessen.
aanvulling 2017: met dank aan Joyce van Hessen
aanvulling 2021: met dank aan Joyce van Hessen

illustration
met dank aan Joyce van Hessen
"Frieda van Hessen treedt op in de nieuwe revue "Carnaval" in het Theater van de Lach. (Foto E. van Hessen)". "Het joodsche weekblad : uitgave van den Joodschen Raad voor Amsterdam". Amsterdam, 23-01-1942. Geraadpleegd op Delpher op 25-08-2016, http://resolver.kb.nl/resolve?urn=ddd:010318302:mpeg21:a0032
foto 2017 met dank aan Joyce van Hessen
advertentie solozang, Advertentie. "Het joodsche weekblad : uitgave van den Joodschen Raad voor Amsterdam". Amsterdam, 25-07-1941, p. 11. Geraadpleegd op Delpher op 08-09-2021, https://resolver.kb.nl/resolve?urn=ddd:010318165:mpeg21:p011

publicized:
22 juli 2017
last amended:
14 april 2023